Kwasi Kwarteng tears up UK tax system in £60bn tax event
6 minute read
Chancellor Kwasi Kwarteng has announced a series of sweeping tax cuts as he battles to revive the UK's flagging economy.
Kwarteng used the much-anticipated fiscal event to lay out a new plan for the economy, with the promise of raising the trend rate to 2.5%, but warned that "none of this will happen overnight. ".
The Chancellor's major intervention in the economy included a series of sweeping tax reforms, including the reduction of the top rate of income tax and the reduction of stamp duty rates, as well as the reversal of the increase planned national insurance contribution.
The tax cuts are expected to cost £45bn, plus Kwarteng confirmed the previously uncosted energy package will cost around £60bn.
He also confirmed reports that the cap on bankers' bonuses would be removed, insisting the measure had hurt the financial services sector and diverted spending from London to other major financial capitals, including Paris and New York. .
"A strong UK economy has always depended on a strong financial services sector. We need global banks to create jobs here, invest here and pay taxes here in London, not in Paris, not in Frankfurt and not in New York," he said.
"All the bonus cap has done is raise bankers' base salaries or stimulate business outside of Europe. It never capped total compensation."
In a major change to benefit rules, Kwarteng announced plans to cut people's benefits if they "do not fulfill their work commitments", as he said there were more vacancies than unemployed.
"With more vacancies than unemployed to fill them, we need to encourage more people to join the labor market. We will make work pay by reducing people's benefits if they do not fulfill their job search commitments" , did he declare.
"We will provide additional support for unemployed workers over the age of 50 and will ask around 120,000 additional people on Universal Credit to take active action to seek more and better paid work or face a reduction in their benefits."
Addressing MPs, Kwarteng said the change was the first step in boosting the growth of the UK economy.
"Growth is not as high as it should be, which has made it harder to pay for public services, requiring higher taxes," he said.
"We need a new approach for a new era, focused on growth…Our plan is to expand the supply side of the economy through tax incentives and reforms. This is how we will provide higher wages, greater opportunities and crucially fund public services now and in the future."
The Chancellor also pushed ahead with pre-informed plans to reverse the proposed rise in corporation tax to 25% from next year, meaning it will remain at its current rate of 19%, saying that the change "would bring in nearly £19billion a year. reintegrate into the economy.
In another major announcement, Kwarteng revealed a significant reduction in stamp duty, saying the current rate at which people are exempt from tax would double to £250,000, while first-time buyers would see their threshold increased to £425,000 £.
In a significant change to personal taxes, Kwarteng announced he was scrapping the top tax rate of 45 per cent for those earning over £150,000 from 2023, as he claimed the higher rate hurt the competitiveness of Great Britain.
"At 45%, that's currently higher than the highest rate in G7 countries like the US and Italy. And it's even higher than social democracies like Norway. But I'm not going to not reduce the additional tax rate today, I will abolish it completely.
"High tax rates hurt Britain's competitiveness. They reduce the incentive to work, invest and start a business."

Chancellor Kwasi Kwarteng today announced he will scrap the top tax rate of 45% from April 2023 pic.twitter.com/Q5Od2bSXud

— PoliticsHome (@politicshome) September 23, 2022
He added: "From April 2023 we will have a single higher income tax rate of 40%. This will simplify the tax system and make Britain more competitive. This will reward enterprise and hard work. This will stimulate growth. the whole economy and the whole country."
Responding to the announcements, Shadow Chancellor Rachel Reeves said workers would be made to "pay the bill" and accused the government of a "vicious circle of stagnation".
"The Chancellor has confirmed that the costs of the energy price cap will be financed by borrowing, leaving the windfall profits of the energy giants untaxed," she said.
"Oil and gas producers will be toasting the Chancellor in conference rooms as we speak, while workers have to foot the bill. Borrowing more than is needed, just as interest rates rise. "
She took aim at the government's refusal to release independent economic forecasts alongside fiscal changes, saying the plans were an "admission of economic failure".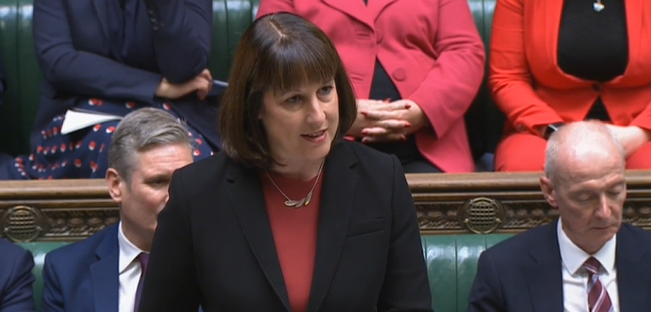 "It's a budget without numbers, a menu without prices… What does the Chancellor have to hide? This statement is an admission of 12 years of economic failure. They say these ministers will be different."
Prime Minister Liz Truss promised sweeping tax cuts throughout her leadership speech, saying reducing the tax burden on households could help them weather the worst of the cost of living crisis.
Kwarteng also announced that it has entered into discussions with 38 combined local and municipal authorities across England to launch new investment zones which will offer time-limited tax cuts to businesses in a bid to boost the growth.
The new areas, which will include the West Midlands, Hull and the Tees Valley, will offer relaxed planning rules to help speed up home building and infrastructure projects, where the government has claimed the UK is lagging behind compared to its international competitors.
Ahead of Kwarteng's statement, the government confirmed that the 1.25% increase in National Insurance will be reversed from November 6, with the planned introduction of the Health and Social Care Levy in April 2023 being also removed.
The Treasury has estimated that the change will save 28 million taxpayers around £330 next year, while around 920,000 businesses will save around £10,000 on average due to the inversion.
But ministers have insisted that the £13billion of extra funding he would have raised for the health service will be replaced by general taxation.
The statement follows a decision by the Bank of England to raise interest rates to 2.25% in response to soaring inflation rates which are expected to reach 11% – their highest level in 40 years.
PoliticsHome Newsletters
PoliticsHome provides the most comprehensive coverage of UK politics anywhere on the web, offering high quality original reporting and analysis: Subscribe