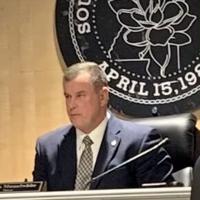 Musselwhite Praises Legislature's Efforts to Phase Out State Income Tax and Passing Teacher Increases | News
The mayor of DeSoto County's largest city praised state lawmakers for passing legislation to raise teachers' salaries and to advance a medical marijuana bill.
The Senate on Friday passed a $210 million salary increase for teachers 35-0 that will increase salaries by an average of $4,700 over two years to provide higher salaries more in line with other states in the region. .
Under the Senate bill, starting salaries for teachers would increase to $40,000 and provide increases of $1,325 for teachers with bachelor's degrees, $1,425 for master's degrees, $1,525 for specialist and $1,641 for a Ph.D. every 5 years as they gain more experience.
The House passed its own measure last week that increases teachers' starting salaries by $37,000 a year to $43,124. Both proposals would push Mississippi teachers' starting salaries past the regional average of $39,754 and higher, in line with the national average of $41,163.
Mayor Darren Musselwhite called it a "monumental day" for educators and education in Mississippi.
"It's time we got to where we should be," Musselwhite said.
Musselwhite said increasing teacher pay goes beyond simply paying teachers more. This helps improve the state's reputation and will also help attract new teachers and potential new businesses.
"It's so important to our state, not only to the teachers themselves who are doing an amazing job shaping our future with the kids, but it's also to the whole image of the state of Mississippi. When a development plans to come here, if they plan to bring their families here and all the employed families there, they want to make sure that there is a good public education system.
Musselwhite attended the Mississippi Municipal League's 2021 Mid-Winter Legislative Conference in Jackson, held Jan. 11-13, and this week briefed residents and the Board of Aldermen on some of the bills. under consideration by the legislature which will affect Southaven.
Musselwhite said he and other DeSoto County mayors and local officials who attended the conference networked with other city and county leaders across the state to share ideas, and also met with lawmakers for a briefing on bills currently being discussed by the legislature.
"It's time for us to be in Jackson with the legislative session underway so we can get updates on what's going on in our state," Musselwhite said.
Musselwhite said it's sometimes difficult to stay informed about what the Legislature is doing because Southaven and DeSoto County are a long way from Jackson and are in the Memphis TV news market, which doesn't cover a lot of news on the Mississippi legislature.
"It works against us," Musselwhite said. "There really isn't a source for what's going on in Jackson, so a lot of our people have no idea what's going on. I can't stress enough that our city is affected and all our people are so touched by this is happening in the state legislature.
Musselwhite said the four big issues facing the legislature right now are teacher salary increases, state income tax phasing out, medical marijuana and redistricting.
He supports the House-led plan advocated by Speaker Philip Gunn, which recently passed, which would phase out personal income taxes, cut groceries tax and increase the retail sales tax. 'state on other articles.
Under the House bill, the first $40,000 of income for a single filer and $80,000 for a married couple would be tax exempt in the first year and completely eliminated in 10 to 12 years as long as the state would collect $6.175 billion in revenue plus 1.5% growth. Income tax revenue accounts for approximately $1.8 to $2 billion, or one-third of the state's annual revenue.
The loss of revenue would be offset by increasing the sales tax from 7% to 8.5%. The plan would also reduce the food tax from 7% to 4% and also reduce car tag costs. Economists estimate that eliminating the income tax will increase the state's gross domestic product (GDP) by $371 million.
"I commend the House," Musselwhite said. "I think this plan is good. I think it will work."
Musselwhite said phasing out the income tax would help make Mississippi more competitive.
"You have people – especially where we are on the border with a state that has no income tax – there are so many people who live in Tennessee and own a business who will not come here because of income tax. It's a fact," Musselwhite said. "If you eliminate income tax, you're going to bring more people here. In the long run, this will be a huge advantage.
Musselwhite also praised the House for moving a bill to legalize medical marijuana a little closer to passage.
The Mississippi House of Representatives this week approved an amended version of the Senate medical marijuana bill, lowering the amount of marijuana a patient can purchase to 3.5 grams, with a maximum monthly limit of 3 ounces per month.
The House version also allows dispensaries to open in commercial districts and places oversight of the medical marijuana program under the Mississippi State Department of Health. All dispensaries would be required to be 1,000 feet from schools, churches and daycares, and would not allow the cultivation of marijuana for personal use.
Mississippi voters approved a legalization initiative in 2020, but was overturned by the state Supreme Court on procedural grounds last May.
Musselwhite said scientific research now knows a lot more about medical marijuana than five years ago, and there is a big difference between medical marijuana use and recreational marijuana use.
"I just have to say shame on the people of Mississippi who don't at least recognize it's medicine now," Musselwhite said. "It's not smoking a joint. A 10-year-old child with mitochondrial disease with seizures is not a pothead. There are children who need help and we know this medicine can help them. There are people who have had cancer, people who suffer from chronic pain, and we now know that medical marijuana can help. We have veterans who have lost limbs in wars fighting against pain every day. And any doctor in America will give them any opioid they want because that's the severity of their demands and their pain. But they don't want to be addicted to opioids. Medicinal marijuana can therefore eliminate this pain or minimize it. »
Musselwhite said the legislation includes a 90-day opt-out period if the city decides not to allow medical marijuana in the city.
He said council members will also have to start thinking about zoning and where they want to allow dispensaries.
"When Initiative 65 was passed, cities were very concerned about the ability to properly zone dispensaries," Musselwhite said. "And that's a big problem for cities. It is very important that we zone it correctly. They don't need to be on every corner. There must be a suitable area for them.
Musselwhite said he doesn't know what the final bill will look like, but hopes the people of Mississippi will open their ears and listen and see medical marijuana for what it can do to help the citizens of the state. .