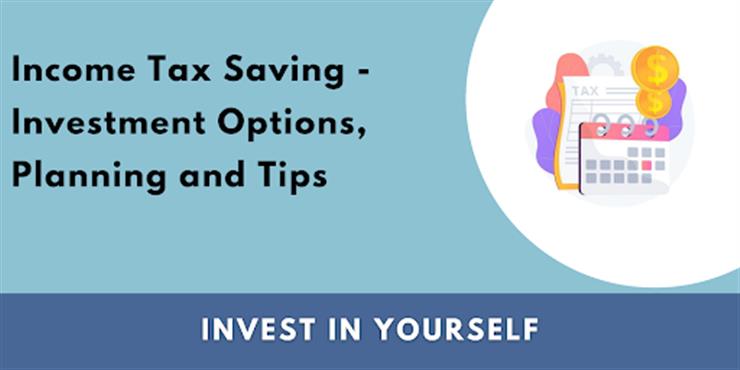 Saving Income Tax – Investment Options, Planning and Advice
Contents
What is the income tax savings?
What are the income investment options?
Tips for planning your tax savings.
introduction
Saving income tax is a dream for taxpayers helping them to save money for themselves in a legal manner. Since the government began to impose taxes, individuals have done their best to find tax-saving investment options. Money saved through investment options can be used to generate income in other ways. It can contribute to the growth of the financial assets of the company. But making tax savings possible is not everyone's cup of tea. Not everyone knows how to save some of their hard earned income.
If you are one of the group of people who are unfamiliar with tax saving investment options, then further reading is a must for you.
What is the income tax saving?
Do you spend a large portion of your salary on taxes?
Do you feel like a good chunk of your monthly income is going in taxes?
Are you in the zone thinking that if the money hadn't been spent on taxes you would have saved it for the safety of the family?
If the answer to all of this is yes, then you must clearly understand what saving income tax is?
Saving Income Tax follows the models shown for Saving Income to Reduce Income Tax, all followed legally. When you save in the name of taxes, it can be seen as earned money. If it's okay to understand the concept of tax savings so far, you'll go a lot further as well.
To save tax, you need tax planning. Let's see what tax planning is and what are the possible ways to do it.
What is tax planning?
Tax planning assesses tax obligations after considering all sources of income and making tax-saving investments. It is at his discretion to choose ways to save tax through investment tools. If this is not possible on your own, a tax advisor can help you with tax planning.
Income tax deductions that you deploy to save tax use various investments, savings, and expenses to verify eligibility. Tax planning allows you to pay as little tax as possible.
Speaking of tax planning, you should know about the different tax saving investment options that will lower your tax liability. But before that, you need to know the possible sections that allow income tax deductions.
Sections of tax savings applicable under the Income Tax Act, 1961.
Article 80C: You can make an investment of Rs.1.5 lakhs under section 80C to reduce the tax payable. Some of the investment tools that you can buy include life insurance policies such as Term Plan, ULIP, Savings Plan, Retirement Plan, and Children's Plan. You can also invest in National Pension Scheme, Tax Saving Fixed Deposit, National Savings Certificate.
Under section 80C, an additional deduction of Rs 50,000 is allowed if you invest money in the NPS under 80CCD.
Article 80D: The premium you pay for your mediclaim policies is eligible for tax deductions under section 80D. The maximum deduction allowed under this section is Rs.1, 00, 000 / -.
Article 80EE: You are free to claim deductions up to Rs.50,000 on home loan interest under Section 80EE.
After understanding the deductions sections, let's look at the tax saving investment options.
Investment options that save income tax.
These are the options you can invest in to save income tax.
Under section 80C:
Life insurance policy

:

Buy a life insurance policy

this gives you the opportunity to invest while providing you with life coverage. Choose to invest for a long time, because then you will be able to get high returns on the investments made. The different life insurance products that you can buy include term plan, ULIP, savings plan, retirement plan, and children's plan. Either way, you are able to create financial security for your family that allows them to live solidly even when you are not alive.
Besides the protection of the cover, the tax advantages of life insurance are worth considering. The policies give you a tax benefit of Rs.1.50,000 / –
Fixed deposit

: Term deposits can be made at any bank or NBFC. It is the financial instrument that helps clients save money. The interest rate on fixed deposits is predetermined to help earn interest on the fixed lump sum. These come with a blocking period of 5 years. This is the length of time during which you cannot withdraw the money you have invested.

ELSS Fund

: Equity Linked Saving Scheme is a tax saving instrument that allows you to claim a deduction under section 80C. It is the only type of mutual fund that qualifies for tax deductions. ELSS has a 3 year lock-in period and generates returns of 15% to 18%.
Unit insurance scheme:

Unit-linked insurance scheme

is a dual benefit life insurance policy that offers a tax benefit. The return on investment varies depending on the funds in which you invest. ULIP has a 5 year blocking period before which you are not allowed to withdraw funds.
Seniors Savings Plan:

A Seniors Savings Plan is a government sponsored retirement benefit program. Citizens over 60 can benefit from the SCSS. The plan also allows you to benefit from tax advantages other than offering you a rate of return of 7.4%.
National Savings Certificate:

The National Savings Certificate is a fixed income investment program that you can use at any branch. Savings bonds are what motivate small and medium incomes to invest money. At the same time, they are also looking for tax advantages. NSC's rate of return is 6.8% and the minimum investment amount is Rs.1000 / -.
National pension system: The National Pension System is a voluntary retirement savings scheme under the jurisdiction of the Indian Government's Ministry of Finance. The tax exemption allowed under the NPS system is Rs. 2 lakhs. You can make a minimum contribution of Rs.500 / – for the scheme.
The other deductions you can claim under section 80C are home loans which will give you a tax benefit of up to Rs.1.5 lakhs.
Under section 80D
To save on Section 80D tax, the best you can do is purchase a mediclaim policy. The policy can be for you, your spouse, your dependent children and your dependent parents. The tax benefit for everyone is different. This deduction also applies to supplemental policies and critical illness coverage.
These payments are eligible for deductions under Section 80D:
Medical insurance premium.

Expenses incurred for preventive health check-up

Medical expenses incurred for the treatment of the elderly (over 60)

The premium contribution to the central government health scheme.
The deductions applicable under section 80D are:
| | | | |
| --- | --- | --- | --- |
| The description | Medical insurance premium paid for yourself, your spouse and your dependent children | Medical insurance premium paid for parents | Total deductions under section 80D |
| Nobody is 60 years old | 25,000 rupees | 25,000 rupees | 50,000 rupees |
| Individuals and families are under 60, but parents are over 60. | 25,000 rupees | 50,000 rupees | 75,000 rupees |
| Individual and parents are over 60 years old | 50,000 rupees | 50,000 rupees | Rs. 1, 00, 000 |
Under section 80EE:
Section 80EE allows tax deductions of up to Rs.50,000 / – on mortgage interest that exceeds the limit applied under Section 24. This final section states that a tax deduction of Rs. 2 lakhs will be claimed under section 24.
Clear with which sections will give you maximum tax deduction benefits? The other fact that you should know includes tips for planning tax saving investments.
Tips for investing options that save income tax
Here are some tips to keep in mind for managing your income tax saving investment options:
Start tax planning early in the year because now is the best time to plan.

Take your time to decide on investment planning. Avoid making rushed decisions. Choose the investment options that are sufficient for your tax planning as well as investment goal.

Keep in mind your current tax saving expenses, such as insurance premiums, children's school fees, EPF contributions, mortgage repayment, etc.

To determine how much to invest, subtract this sum from Rs 1.5 lakh. If your spending is over your limit, you don't have to invest the full amount.

Depending on your goals and tolerance for risk, choose investments that save tax. Popular investments include ELSS, PPF, NPS, and term deposits.
Conclusion:
When it comes to paying taxes, it's rare that people are prepared to do so. Most of us are just trying to save taxes in the best possible way. Well, tax planning to deduct the exact amount of tax payable taking into account tax saving investment options makes the whole process legal. It is the duty of every ordinary individual to contribute to the maintenance of public infrastructure by paying taxes on time. For more information on tax planning with a life insurance policy and other investment tools, you can dead: Tax benefits of life insurance.