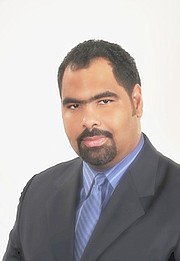 The government's 25% target requires a fairer tax system
By NEIL HARTNELL
Editor-in-chief of the Tribune
A more progressive income-based tax system is needed to achieve the government's "aggressive" 25% revenue-to-GDP target and prevent the gap between rich and poor from widening.
Gowon Bowe, a member of the Fiscal Responsibility Council (FRC), speaking after the publication of his verdict on the 2021-2022 budget and the supplementary version of the Davis administration, told Tribune Business that he had made known his view to fellow members that the Bahamas' current consumer-based tax system is "not the tax system of the future".
He added that the Council report alluded to this when it argued that the current system dependent on VAT and import duties made it less easy for the government to target tax policy at specific sectors of the people or businesses that need help, such as countries with low income households.
"The Bahamas' current tax system, which is primarily consumption-based, limits the government's ability to target policies to particular cohorts of the population, as VAT and duty exemptions are broad policy tools that are generally more costly, less equitable and less efficient than more targeted direct spending," the Council said.
"During the 2021-2022 budget debate, the government communicated its commission for a study of the Bahamas tax system and various options for tax reform. Given the inherent limitations of the current consumption-based tax system to better target tax benefits, the Council recommends that the study of the current tax system be expedited and build on past studies to facilitate early deliberations and conclusions on the most appropriate tax system for The Bahamas.
"Furthermore, some tax concessions accord different treatment to Bahamian nationals and foreign nationals, which presents challenges to the overall fairness of the existing tax concession regime."
Linking this to the Davis administration's plan to increase government revenue, as a share of gross domestic product (GDP), from the current 20.2% to 25% by the end of his term in 2026, Mr. Bowe said this was unlikely to be achieved through greater compliance and enforcement alone.
"When you make such a bold statement that you will hit a 25% revenue to GDP target, has that come with what you will do to get there? He was talking about closing the loopholes, but what he didn't say so explicitly is that these loopholes have been there for many years, and you would have hoped to close them before," he added.
"The last time we had a significant increase in the percentage of revenue to GDP was when we introduced VAT. To give the general public a correlation, we were only able to increase revenue to GDP that when we introduced a new tax. It's not to fear a new tax, but with the existing taxes, it's [25 percent revenue-to-GDP] not feasible. »
Mr Bowe, asked whether new taxes and/or tax increases were inevitable to meet the Davis administration's revenue targets, said collecting back taxes would take the government halfway, but was "a finite item" that would not necessarily repeat itself year after year. .
"We are going to have to say that the consumption tax system is not the tax system of the future," he told this newspaper, suggesting that the Bahamas will have to move away from a structure where people with low income paid disproportionately more taxes than their fellow citizens. wealthier counterparts.
"We are going to have to eliminate this type of anomaly where those who have less of us are paying more in relation to their income," Mr Bowe explained. "Right now they pay more of their income in taxes than someone who earns more, and that's unfair.
"This can lead to growing discord. The gap between haves and have-nots is not as pronounced as in Haiti and Jamaica, but it is widening. We must ensure that the tax system does not perpetuate a widening of this gap, but a reduction of this gap.
The Council, in its report, said: "The government has set a tax revenue to nominal GDP ratio target of 25% over the next five years. Based on historical ratios of tax revenue to nominal GDP, the target is aggressive and will require significant tax policy and tax administration reforms to achieve.
"It will be equally important to ensure that the tax system is simple, fair and effective… In addition, it has been announced that the former Revenue Enhancement Unit (REU) will be reinstated, in the hope that the REU will collect approximately $200 million in tax revenue in fiscal year 2021-22 and fiscal year 2022-23.
"Strengthening the enforcement of tax collections and deterring tax crime should have a positive impact on tax revenue. However, more detail regarding the strategic and operational focus of the REU, as well as quantification of the areas with the highest levels of foregone tax revenue, is needed to properly assess the credibility of the projected tax revenue gains" , he added.
"Furthermore, the effectiveness of cash and non-cash methods should be investigated to facilitate the most appropriate combination of these methods to maximize tax compliance and recoveries…Efforts to properly equip tax authorities with the Appropriate technology will be key to improving overall tax compliance through increased automation for taxpayers, which should improve the efficiency of paying taxes.
The Council also expressed concern that at current levels, "public debt servicing costs represent 65.6% of total recurrent expenditures, equivalent to $0.76 of every dollar of tax revenue received used to fund these obligations. This demonstrates the importance of continued fiscal discipline to develop and maintain a downward trajectory of public debt".
And he noted that he had not had access to the financial modeling underlying the reduction of the VAT rate to 10%. "Assessment of public debt, outstanding liabilities, including unfunded pension obligations, and contingent liabilities underscores the need for a consistent and comprehensive definition of public debt and the development of a framework for estimating and monitoring contingent liabilities," the board said.